The Partnership: A History of the Apollo-Soyuz Test Project
---
Studying in Star City
The American ASTP crews visited the U.S.S.R. in mid-November 1973 for eleven days of spacecraft familiarization. In addition to the Soviet crews and training specialists, the U.S. prime and backup crews, two support crewmen (Overmyer and Bobko), Gene Cernan,* Nick Timacheff, and John E. Riley, a Public Affairs Officer from JSC, were present at the Yu. A. Gagarin Cosmonaut Training Center in Star City. Following the pattern set by the JSC crew training staff in July, the Soviets presented nine video-taped lectures to the visiting astronauts. Starting with a description of the Soyuz flight from launch to rendezvous, undocking to landing, the television tapes covered a number of significant aspects of the Soviet craft. This set of lectures and their subsequent study of the mockups and trainers gave the astronauts a better feel for the Soyuz flight control systems and onboard displays and the environmental controls for oxygen generation, temperature levels, and food, water, and waste management. Details of radio and television communications equipment closed the presentations.30
During the course of their stay, the astronauts had ample opportunity to become acquainted with the Soyuz general purpose and docking simulators and the Soyuz and Salyut mockups. They listened to recordings of air-to-ground conversations from an earlier Soyuz mission and discussed an even longer list of common terms that would be used during the flight. Finally, they went over with their hosts the "Joint Crew Activities Plan" and the "On Board Joint Operations Instructions." The Soviets gave them copies of the video tapes, hardbound copies of the scripts, which were illustrated with line drawings, and tape recordings of the air-to-ground communications.31
---
[257]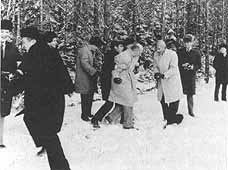 Rest stop during trip from Star City to Moscow provides crewmen with a chance for a snowball fight, November 1973.
---
In addition to the classroom instruction, the astronauts participated in cosmonaut physical training activities and social events. During non-working hours, the two space teams jogged, swam, and shared steam baths. At one point during a rest stop on their journey between Star City and Moscow, they engaged in a snowball fight, a rare treat for the men from semitropical Houston. Their crowded agenda also included a trip to the ballet, where the astronauts were literally showered with bouquets of roses by young ballerinas. But the snow covered fields of Russia were quickly followed by the mild winter of Gulf Coast Texas. And with the return to Houston came more detailed preparations and training for the flight.
---
* Cernan had replaced Dave Scott as Lunney's special assistant after Scott left in Aug. 1973 to become Director of NASA's Flight Research Center, Edwards, Calif.
---
30. The titles of the nine brochures all dated Oct. 1973 presented to the astronauts were as follows: "Soyuz" Mission Profile, Soyuz Spacecraft General Description, Androgynous Peripheral Docking System (APDS), Onboard Systems Manual Control General Concept, Thermal Control System (TCS), Atmospheric Composition Control and Integrity Check Systems General Concept, "Soyuz" Radio and TV Communications Systems Operation, Food and Water Systems, and Waste Management Systems.
31. "Minutes, US Astronaut Crews Familiarization Courses at the Y[u]. A Gagarin Cosmonaut Training Center" 19-30 Nov. 1973; Eugene A. Cernan to Lunney, memo, "ASTP Crew Visit to USSR," 13 Dec. 1973; Hedrick Smith, "U.S. Astronauts in Soviet to Train with Russians," New York Times, 20 Nov. 1973; Michael McGuire, "Joint Space Bid Off to Bumpy Start," Chicago Tribune, 20 Nov. 1973; and Vladimir A. Shatalov, "Na orbite sotrudnichestva" [On the orbit of cooperation], in Soyuz i Apollon, rasskazivayut sovetskie uchenie inzheneri i kosmonav ti-yehastniki sovmestnikh rabot s amerikanskimi spetsialistami [Soyuz and Apollo, related by Soviet scientists, engineers and cosmonauts - participants of the joint work with American specialists], Konstantin D. Bushuyev, ed. (Moscow, 1976), pp. 199-214.
---